How do I install an APK file on my Android device?
One of the differences between the Android operating system and Apple's iOS is that Android allows you to freely install third party apps. While apps downloaded from the Google Play store are installed automatically, app installers downloaded outside Google Play are saved as .APK files and must be installed manually.
When you download an APK file, it is automatically recognized by the Android operating system. This means you can open an APK file by simply tapping the file icon on your Android device. However, in order to install an unverified app, you may need to change the default security settings on your Android device to allow the installation of third party apps.
This feature is helpful if you want to install apps that are not available from Google Play (formerly Android Market). It is also useful if you own an Android device that doesn't meet Google's Compatibility Requirements or if you want to install your own custom app.
IMPORTANT: You should only install apps only from sources you trust.
Allowing Installation of APK Files
In order to install an APK file, you must first allow your Android device to install applications from unknown sources. You can do this by following the steps below:
Open the Settings screen (tap the wrench/screwdriver icon on the Home screen).

Tap

and you'll be taken to the Android Security Settings screen.
Tap the checkbox next to "Unknown sources," where it says "Allow installation of apps from unknown sources." A dialog box will pop up informing you of the risks associated with installing unknown apps. Tap

to confirm you want to allow this feature.
Once you've checked this box, you can install apps from APK files without needing to visit the Google Play store.
Installing an APK File
APK files may be downloaded from the web or saved as an email attachment. If you receive an APK file in an email and you want to install it, just click the attachment and tap Install to install the app on your tablet or smartphone. If you've downloaded an APK file from the web, you can find it in your Downloads folder (Apps & Widgets → Downloads). In the example below, the Downloads folder contains an app called Fact.apk.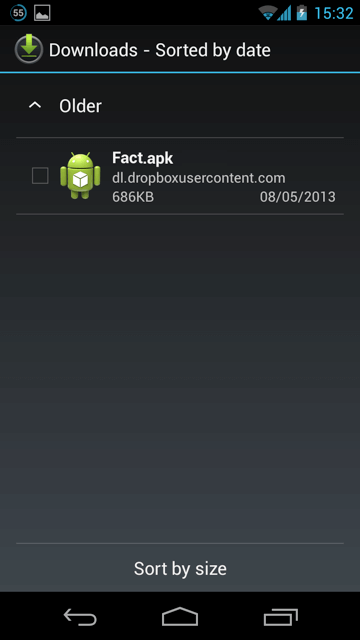 Simply tap the APK file to begin the installation process. You may be prompted to allow certain permissions in order for the installation process to complete. Once the APK file has successfully been unpacked and installed, you should see a confirmation message similar to the one below.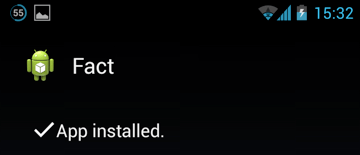 You can now access the newly installed app from your Home screen.