.GDOC
File Extension
File Type
Google Drive Document
Developer
Google
Popularity

Category
Text Files
Format
Text

Text

This file is saved in a plain text format. You can open and view the contents of this file using a text editor.
What is a GDOC file?
A GDOC file is a document created by Google Docs, an online document editor included with Google Drive. It contains a URL reference to a Google Docs document stored in Google Drive. GDOC documents store text, images, equations, drawings, charts, and tables.
More Information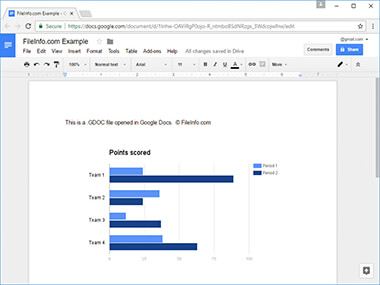 Google Drive is a file storage service that also features the Docs, Sheets, and Slides programs. Drive can be downloaded and installed in Windows or macOS as a desktop client for synchronizing remote Google Drive files with the local computer. If you install the Google Drive desktop client, your Google Docs documents are accessible within a special folder named Google Drive, which is on the local hard drive. This folder is used to synchronize files with the remote Google Drive. When you double-click a GDOC file, the document is opened in Google Drive in your default web browser.
The Google Docs interface appears similar to Microsoft Word with a toolbar that allows you to change the text font, size, spacing, and alignment. The program also comes with word count, translation, voice typing, and dictionary capabilities.
FREE DOWNLOAD

Open over 300 file formats with File Viewer Plus.
Programs that open GDOC files
Updated 1/10/2017